R4K - KHAO LAK
WHAT WE DID
20o9/11 Khao Lak - Bang Niang Charity Tournament
We raised over 100.000 THB for a new Playground for the Special Educational School Phang Nga in Old Takuapa. Together with a Dutch Couple Harry & Celine it was posible to make the Kids smile.
January 2011
1. Charity Poker Run Khao Lak "Set Up"
April 2011
2. Charity Poker Run Khao Lak. 10.000 THB donation and visiting the Home & Life Project in Tai Muang
May 2011
Hands Across the Water Project Takuapa delivery together with our Supporter from Germany Anton Schnuerle 500 kg Rice
November 2011
3. Anniversary Party Asian Nomad visit Hand Cross the Water Project and delivery 700 kg Rice and toys for the Kids.
February. 2012
4. Charity Poker Run Khao Lak 16.000 THB for the medical Heart take care of the Daughter from "Steef & Uu"
October. 2012
5. Charity Poker Run Khao Lak 20.000 THB for the Special Educational School Phang Nga in Old Takuapa.
March 2013
6. Ride-4-Kids Run The ride.
May 2013
7. Special Donations Guenther Estl - Tiffy's Cafe. As we ll heard that Guenther got a brain attack we donated 5,000 THB to help with medical expenses for Guenther.
Heart Check Up.
One Thai woman who need a heart check up in Bangkok. She asked to help for pay for the bus and for her and the daughter who will take care her for 10 days in Bangkok in the Hospital. We paid 5.000 THB to support her.
Soecial Ride-4-Kids Run 7th September 2013
Ride-4-Kids wants to say "thank you so much" for your man power & financial support on Saturday 7th September 2013 for the "Hands Across The Water Project" Baan Than Namchai Foundation. We donated over 58.000 THB
Our latest project was a huge success ! Check our Facebook Page for photos and videos.
We are very happy and thankfully that Khun Sam and Khun Boonma Eaibsub call out the first time for "Ride-4-Kids" support and ride together to support children in need.
Thank's to all supporters like Brow Custom Bike, Khanum Rider's, Phuket Rider, Hep Hep Rider, Born to be Wild, Pro Team, Nomad Rider Koh Phangan, Ranong Group, Nobody's Fool, Krabi, Asian Nomad Pattaya, Heroes End and all others who ride with us to Takuapa.
Special Thanks goes to the german TV Team, our translator Khun Nat, Asian Nomad Khao Lak for their biker support and the team from Bavaria House Khao Lak for the free breakfast, the great rescue team from Khao Lak and the Team of "Hands Across The Water" for their dedication and love.
November 2013
Ranong Bike Week
With the help of Cherry & Brow we raised over 25.000 THB for Disabilitis Goverment School in Ranong
February 21th 2014
R-4-Kids went to meet a representative from EMS, Stephan Dietrich, and gave him a donation of 20.000 THB to cover the costs of the monitor.
We are happy to help EMS, without Ride-4-Kids donation they would not have been able to buy this important medical device.
March 15th 2014
3.Int Ride-4-Kids Run Chapter Augsburg & Phuket. A new record is set up!
In addition to the 1200 kgs of rice, the German Chapter raised 80,000 baht, the Phuket Chapter over 100,000 baht, 180,000 to 200.000 baht in total with nearly 30,000 baht in the Tank for the next Ride. Incredible. These guys really rock!!!
March 28th 2014
Ride and handover to 2 manual Wheelchairs to Camillian Social Center at Bansak Beach - Khao Lak Takuapa.
A Day we never ever will forget
May 10th 2014
Ride-4-Kids went to the Takuapa Hospital to help in financial Way and support one 20 Day's young Child who lost 800 Gramm in one Week.
We was able to pay 10% of the Hospital Bill and Donated 5000 THB.
October 28th 2014
Ride-4Kids supported our Brother Khun Bear with a Donation of 5.000 THB. Khun Bear is one of the first Supporter of the Ride-4-Kids Project. He had a badly accident and have to lay six week in the Bed. We wish Khun Bear a fast and full recovery to see him soon back on his ugly Bike. Thank's to all People to allow us to help.
December 6th 2014 (Santa Claus)
Ride-4-Kids ride together with the German Chanel Stern TV to the Tsunami Project Cross A Hand The Water for produce a small Doco over 10 years after Tsunami....With our German Supporter Hans Rester we bought Christmas Presents for 20.000 THB.
December 27th 2014 7th Ride-4-Kids Run so called "Tsunami Memory Ride"
We delivered 1000 KG rice and food of 75.700 THB to the Tsunami Project of Khun Rhojana "Hands A Cross The Water"
January 21th 2015 Camillian Social Center Bang Sak Beach - Khao Lak
We delivered 2 wheelchairs for 7.600 THB.
February 8th 2015 Ranong Bike Week & 2.Ride-4-Kids Run Ranong
Ride-4-Kids support the Ranong Bike Week of our Friend Khun Brow on 6/7 February 2015.
We delivery on 8th February the Disable Goverment School of Ranong Food for over 23.500 THB. Thank's everybody for the Support and see you on the 8th Int. Ride-4-Kids Run on 21 February in Khao Lak.
February 21th 2015 8.Int. Ride-4-Kids Run Khao Lak - Bang Sak Beach
We finance the Playground Roof for 2 Playgrounds at the local Burma School in Thum Kamin. The Cost 126.500 THB
We delivery 10 Bicycles (9 new Bicycles and one second hand) cost 24.000 THB
We delivery Food for 3 Month for 20 disable Kids and one Ofen for the Camillian Social Center for 21.000 THB
March 5th 2015
Ride-4-Kids Austria - Germany & Thailand Supported the Special Education School Phang Nga in Old Takuapa.
Together we donated 8 Wheelchairs, 250 kg Rice, hunderts of Pampers. Shampoo, Paper, a lot more Stuff for over 60.000 THB.
April 7th 2015
"Allyson Donation Support". We donate 1000 KG Rice for 28.700 THB to Hand A Cross The Water Project for 102 Children in Need
May 7th 2015
Ride-4-Kids Germany supported to Hands A Cross The Water Orphanage Food and Supplies for the Amount of 18.500 THB
August 14th 2015
Local Support ride to Camillian Social Center in Bansak Beach to deliver food of amount of 7,000 THB and have Fun with the Kids.
August 29th 2015
Ride-4-Kids & be Japy e.V on the global Charity Day "JAPYDAY" ride and drive (Jeeps and Motorbikes united) to donate Food & Stuff of 51.000 THB included many Clothes and Children Games for the Orphanage Hand's a Cross The Water in Takuapa where 107 Children live. Special Thank's to the Jeep Team's of Phang Nga & Phuket
December 13th. 2015
9th Int. Ride-4-Kids Run with 135 Big Bikes & over 30 Scooter from Khao lak to Baan Than Namchai (Hands A Croos The Water) to delivery Food & Stuff 0f 47.900 THB included many Diapers for the small ones. We Top the amount of Bikes during many "Thai Biker" enjoy the Ride. Special Thank to Ritchie Newton from Powerhearts to enjoy and support our Run. Ritchie you rock........
Januar 30th 2016
10th Ride-4-Kids Run (1. Ride-4-Kids Run in Phuket)
We delivery 50 Helmet (16.000 THB) to the Wat Sawang Arom School in Rawai Beach Phuket.
February 27th 2016
11th Ride-4-Kids Run Khao Lak. We delivery 110 Helmet for the local School in Bang Niang - Khao Lak. Big Thank's to the Main Sponsor Road Eagle MC Phuket, Khun Joi from Khao Lak Bikers Club (Kitchen Shop) & Asian Nomad and all other Club's. Thank's to Limited Crew MC Germany & Ride-4-Kids Austria for the great Donation.
March 26th 2016
The 12th Int. Ride-4-Kids Run in Khao lak a great success to the end of the Season.
About 80 Bikes comes to Khao Lak to celebrate there well know Charity Run's of Ride-4-Kids.
The Biker's donate over 1 Tonne of Rice and a lot of other Food for the Ban Than Namchai Orphanage in Takuapa.
The youngest Kid of the Orphanage was only 6 Days young. More than 100 Kids living there.
In total was given amount of 75.000 THB for Food and Stuff to Khun Rotjana and there Helper.
Ride-4-Kids says thank you very much to all sponsor and supporter and we will make the 13th. Ride-4-Kids Run a special one.
October 1th 2016
Ride-4-Kids went on 1th October 2016 with a group of Foreign Supporter to Baan Than Nam Chai to support the over 100 Kids with Rice, Cloths & Games Great to see the Kids and Khun Rhotjana doing well.Many Thanks to all supporter from all over the World who support Ride-4-Kids and give as the chance to help direct with Food and Stuff who is really needed.We hold on our promised to help direct that the Donation goes all to the Kids in Need. We also supported on 1th October 2016 our Pakarang Brother's of the "Classic Bike Club" during there Charity Event with Shampoos, Pampers, Milk, etc in worth of 3.000 THB. This Donation will go direct to the Phang Nga Disable School in Old Takuapa where about 40 disable Kids get daily help.
October 16th 2016
On Sunday "Ride-4-Kids" went with 10 German Supporter to the Orphanage Ban Than Nam Chai to donate 250 Kg Rice (5.500 THB) and Sweet's for the Kids.At that Time there was about 15 very youg Kids from 3 Months to 5 year at the Home. Th other Kids about 100 went on Education Tour during puplic Holidays. We say thank you to our kind supporter from Germany.
October 23th 2016
This Sunday, 23rd October, 2016, we will meet at the Bavaria House Khao Lak - Bang Niang between 12 noon and 1 pm and bring the donation of the Restaurant Ederblick of the Family Jürgen & Maike Schimmelpfennig as converted form of food worth of 37.500 THB to the orphanage Takuapa.
November 20th 2016
On the 20th of November, 2016, the group of meeting place Khao Lak went ahead with our Susi Schmuecker and about 20 members and 1,000 kg of rice to the Ban Than Nam Chai orphanage in Takuapa worth of 25.000 THB. Total until today of 1.435.900 THB for Ride-4-Kids
February 26th 2017
We would like to thank all supporters of the 13th Ride-4-Kids Run. We were able to support the orphanage to the value of 135,000 THB through your suport. Despite the uncertain weather, 111 bikes and 10 military jeeps of the Military Jeep group Phang Nga were launched. Over 15 different nations visited the 13th Int. Ride-4-Kids Run. Many thanks to all of you.
March 26th 2017
Ride-4-Kids supports the Rescue Khao Lak for the second time with a financial donation of 60,000 THB for the acquisition of the "JAWS OF LIFE".
With the support of private persons such as: Roland Friedberger, Richard Becker, Thomas Schnuerle, Thomas & Andrea Grusdas, Thomas Stiller, Peter Stiller, Manuela Gsell, Birgid & Thomas Boehler, Khun Kon, Franky Gun and many others as well as Ride- 4-Kids Austia (Peter Guenzl) and Ride-4-Kids Germany (Uwe Liez), such direct donations as for the "JAWS OF LIFE" are possible. Everyone who lives in Khao Lak knows what a good job the Rescue guys and Stephan Dietrich accomplish. Rescue Khao Lak & Ride-4-Kids have been supporting each other since 2011. Thanks to all who make this possible.
April 16th 2017
On Sunday, 16 April 2017, a small group of warmheartedly people supported our orphanage in Takuapa. People like Tanja Wolf & Motorradstammtisch Bindersbach, Mohrs, Bohlers, Margot & Klaus as well as Samuel Ehrensperger and the Andrea Werner family. A total of more than 25,000 THB in food were given personally on site with the support of Khao Lak Big Cara. Thanks to all supporters.
October 15th 2017
The Curryhouse Khao Lak - Bang Niang, in conjunction with Ride-4-Kids, donated a new popcorn machine to the orphanage Baan Than Nam Chai. This ensures success for the upcoming birthday party of the 110 children living there. The Cost of the Machine and Stuff to produce popcorn are 7.000 THB
.
November 17th 2017
On Sunday, 17 November 2017, Sophia Mettke and group of over 20 warmheartedly people supported our orphanage in Takuapa. A total of more than 26,000 THB in food were given personally on site with the support of Khao Lak Big Cara. Also over 11.000THB was saved for the upcomming Burma Project in Tablamu. Total 38.000 THB. Thanks to all supporters,
November 22th 2017
Ride-4-Kids & Heroes End MC Khao Lak & Phuket as well Khao Lak Biker Club, Sun Bees & Sun Bird MC donate for the Bang Niang School during the Grand Opening of the new Clubhouse Stuff and Prices worth of over 30.000 THB. Thank's all Bikers arround Khao Lak, Phang Nga and Phuket.
November 24th 2017
The same group as a week before on 17th. and a few new hearty people under the leadership of Frank & Corina and Horst & Karina Steindl made it possible to deliver to Ban Tham Nam Chai Pampers & Milk in the amount of 4,000 THB directly in the orphanage. Another 4,000 THB was donated to the upcoming Burma School Project. Total 8,000 THB.
December 23th 2017
Support the Burma School in Tablamu - Khao Lak. Biker renovated the School. Thank you. We still try to find the Money for pay the salery for a second Teacher for this 60 Kids. Now one Teacher teach all Children.
February 18th 2018
15th Ride4Kids Rotjana Phraesrithong Memory Run.
We donate in Form of Food and Stuff and Donation for Ban Tham Nam Chai 119.000 THB. Thank's for all you manpower and support
March 31th 2018
On the occasion of the 3rd biker meeting in Khao Lak we organized the 16th. Ride 4 Kids Run in the Burmese School Tum Fireplace. We were able to donate four playground equipment units worth 101'500.00 THB. Thank you for your support
May 05 th 2018
On Saturday the 05th May 2018 Ride-4-Kids supported the fundraiser of our founding member in Germany Anton Schnuerle and his friends, Angelik, Gerd, Thomas & Conny. A total of 600 euros for the Orphanage Baan Than Nam Chai was delivery in form of Food & Stuff.
June 16 th 2018
Thanks to the support of Simone and Rolad Nellen, as well as their Suporter in Germany, we were able to hand over 15,000 THB in the orphanage Ban Than Nam Chai on Saturday 16 June. As always great joy with the more than 100 living children. Thanks to Simone & Roland and their team in Germany
November 21 th 2018
Thank's to the November Team German Ride-4-Kids Group. There was able to Donate for the Orpanage in Takuapa and the Burma School in Taplamu about 60.000 THB for Food and Goods. Thank you so much
January 26th 2019
During the Maria Cotter Memorial Run, Ride-4-Kids donate for Rescue Team Khao Lak 3.000 THB
March 10 th 2019
Burma School Tablamu. We donate a Playground for the very poor School. Amount 104.800 THB
March 17th 2019
Burma School Tablamu. We donate 82.500 THB for School Desk, School Books and Floor
Total Support until today 2.349.200,00 THB
Thank's everybody for the great support .....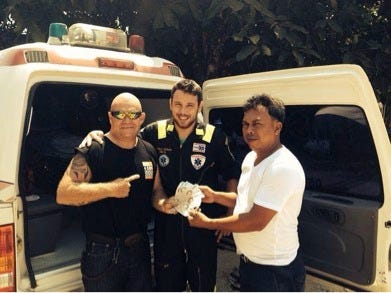 Tom the Founder together with the Khao Lak Rescue Team
Contact:info@ride-4-kids.com
Phone: +66-(0)-895906489
Box 109, KHUK KHAK, Takuapa
Phang Nga
82190 Thailand
Update: The Ride-4-Kids Chapter Khao Lak will organise the second Ride-4-Kids Run on 15 March 2014. Our next project is in the planning stage and will definitely be something special.
We have donated until today...
2.349.200,00 THB